As the holiday season gets closer, the weather gets a lot colder. Burrr! Today's scene is a Dark Captain Swan scene because reasons. The reasons being I really loved Emma and Hook as the dark ones. Whoops! Also this scene was super hot.
Season 5 Episode 2: '
Hook is not impressed. He's there to see what's behind that door, but Emma has plans to distract him. I mean just because she's the Dark One doesn't mean they still can't be together. At least that's what Emma seems to think.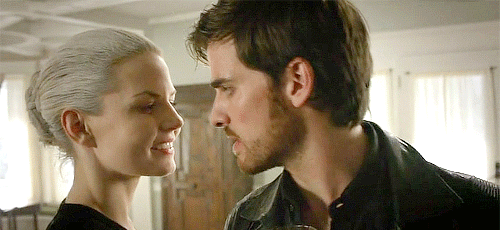 So Hook goes to investigate while Emma is busying herself in the kitchen before she shows up with rum."I also know the fastest way to a pirate is through his liver," Emma says. "There's an even faster way," Hook says as he goes in to kiss her, hoping to rid her of the darkness.
I'm just going to post different angles of this kiss. I mean if you have problems with that, then get out. Jk. But honestly, LOOK! HOT!
This kiss was so hot. That's all I have to say. Another nudge, nudge line.
The tension was so strong in this moment. Look at both of them, so lost in each other. Wow. Okay, but this was such a nudge, nudge to some coffee. Very subtle, Emma. Deciding not to give into temptation, Hook tells Emma this isn't who he is and leaves her. Be strong, Hook! Sigh.